Page - Meet DDP
Meet DDP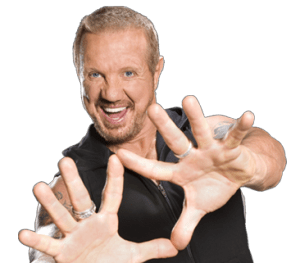 Diamond Dallas Page, known around the sports entertainment world of professional wrestling as "DDP", was born Page Joseph Falkinburg in 1956, growing up in the beachside community of Pt. Pleasant, NJ.  Page was an energetic kid, who would barrel through his grandma's kitchen on his tricycle, swing from chandeliers, and cannonball pool parties. His drive and ambition would lead him on an inspirational journey from being three-time world wrestling champion to his current endeavor of inspiring others to Own Your Life. DDP has developed his life changing DDPYoga including books, audio cd's and DVD workouts and is touring the country to promote his system and after life changing results.
After reaching several athletic goals, DDP decided that he could and would do something that had never been done before… in any sport. Approaching 36, he became the oldest rookie in history and started wrestling at an age at which most athletes reflect on their careers, Page was ready to put in all on the line and on the mat to stay healthy enough to climb from the bottom of the ladder to the main event. His incredible work ethic, training regimen and preventative maintenance along with unmatched personal focus and determination enabled him to battle the hands of time and stay healthy enough to wrestle with men half his age for years to come. His uncanny ability to create his character along with story lines that fans could relate to propelled him to national notoriety, and made him one of the hottest merchandising commodities in professional wrestling.
During his fourteen-year career, he captivated audiences and became a three-time world wrestling champion.  Highly publicized and financially successful pay-per view and network feuds with wrestling giants such as Randy "Macho Man" Savage, Hulk Hogan and Bill Goldberg became legendary for hardcore wrestling fans, but Diamond Dallas Page also was able to bridge the gap between sports entertainment wrestling and mainstream entertainment.  As networks, actors and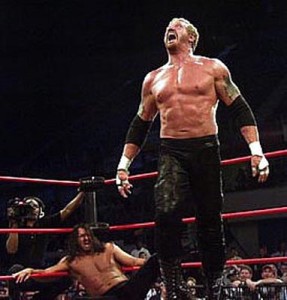 professional athletes became more interested in the fan base and ratings that professional wrestling was attracting, Diamond Dallas Page became the unlikely tag team partner of late-night talk show host Jay Leno, basketball icon Karl Malone and movie star David Arquette.  Those pay-per-view and charity match appearances versus Hollywood Hulk Hogan and perennial  "bad boy" Dennis Rodman are memorable to both fans and non-fans alike.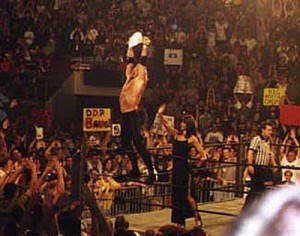 Along with the championship titles and main events came pain and injury in the form of torn rotator cuffs in both shoulders, and a torn meniscus in his left knee. While performing wrestling stunt sequences during the making of the movie "Ready To Rumble", DDP severely damaged his back when he suffered ruptures of his L4 and L5 discs. Now in his mid-forties, it seemed that he should listen to all those who suggested that either surgery or retirement would ease the pain and be the best solution to the loss of mobility his injuries had caused.Page began to search for a better answer, knowing that his positive attitude was equal to the challenge of rehabilitation.  Along with the support of doctors and physical therapists, he decided to become an expert at healing his own body.  He studied and experimented with chiropractics, applied kinesiology, nutrition, organic juicing and supplementation to create the perfect mix of wellness for a person who was trying to, as he put it, to put "Humpty Dumpty back together again."His quest led him back to the mat…except this time it was a yoga mat.  After studying the positive healing effects and increased flexibility that yoga positions provided, DDP became a devotee and adapted the discipline to meet his own needs.  He developed DDPYoga, which is a comprehensive, creative and motivational approach to longevity and better understanding of health and fitness that is presented in 20, 30 and 45 minute workouts.
Do you want to lose weight?  Do you want to learn how to eat properly? Do you want to lower your stress? Do you want to become more flexible and get stronger? No matter what your goal is, you came to the right place, because the DDPYoga does it all!

Why did I develop DDPYoga?  Necessity! Here's my back story. I didn't become a pro wrestler until I was 35 and my career didn't take off until I was 39. At 40 I was one of the top wrestlers in the world and then at 42 I suffered a potentially career-ending injury. Three doctors said my wrestling career was over. Around that time my wife said I should try yoga to heal my body. I was like, yoga — you're kidding, right? I always thought yoga was a bunch of spiritual mumbo jumbo. But I was desperate, so I gave it a shot. I was blown away by the fact that yoga was actually helping my body and my mind! But as good as I was feeling, the reality was that yoga wasn't giving me the intensity I needed in my workout. matter what your goal is, you came to the right place, because the DDPYoga does it all!
So I started looking at other ex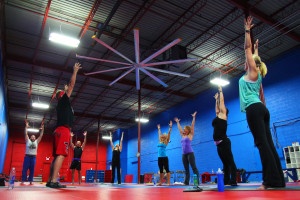 ercise techniques to help me build more strength. I also wanted a full-blown cardio workout that wouldn't beat up my body. I teamed up with trainers, nutritionists and kinesiologists and ended up with a workout where I took the basic principles of yoga blended with elements of strength conditioning, Pilates and mixed martial arts.
Now I had invented an "all-in-one-workout" that gave me intense cardio with no impact on my joints, increased flexibility and strength conditioning… and I called it DDPYoga. Think of it like this: If yoga is a bicycle then DDPYoga is a Harley! They both have two wheels, but that's where the similarity ends.
I did DDPYoga every day and it allowed me to achieve what everyone else believed was impossible. In less than three months I worked my way back to the ring. At 42 years old the doctors said my wrestling career was over, but because of DDPYoga, at 43 I achieved my ultimate goal in professional wrestling and was awarded the World Heavyweight Championship Title — an honor I went on to hold on three separate occasions.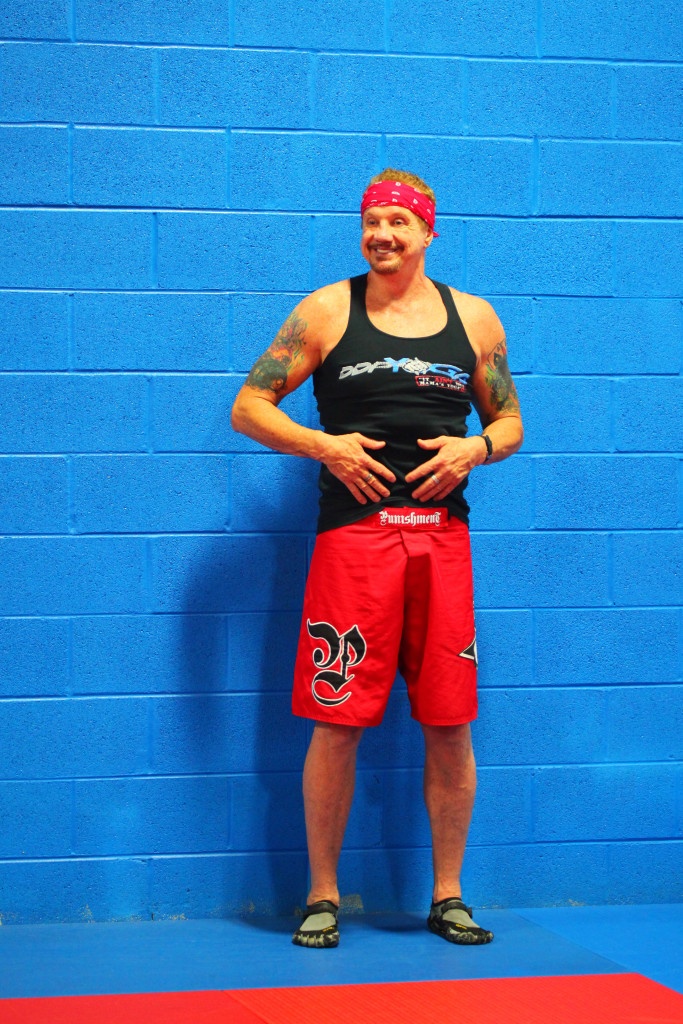 The bottom line is that I had to open my eyes and realize that flexibility is youth, not just in the body, but also in the mind. Once my mind became flexible… everything else followed.

Like anything in life, you are going to get out of DDPYoga whatever you put into it. So let me ask you again… what do YOU really want? If you do DDPYoga three days a week I guarantee it will change the way you feel. If you do it four times a week, it will change your life. If you do it five times a week, you will Own Your Life.
If you want to see the kind of results you can get with DDPYoga, click here to view the DDPYoga TESTIMONIALS. You will see how DDPYoga has changed the lives of people just like you. As you cruise around the DDPYoga site you will be inspired by other people's stories, but nothing will be more rewarding than seeing how your DDPYoga story could end up inspiring someone else. Once you order DDPYoga, you get free access to my online community, TEAM DDPYoga
I set it up to give you all of the support you'll need to reach your goals on your DDPYoga journey. Join Team DDPYoga and become a part of our online family! Follow all the instructions and don't forget to take all seven of the DDPYoga strength and flexibility pictures exactly the way you are today. These pictures will keep
you motivated as you shed pounds, get stronger and feel better immediately. You should take the same pictures every month on the exact same date. You will not believe how quickly your body and your life will change! If you are trying to lose weight then this is also important… make sure you take all the body measurements and weigh yourself on a monthly basis.
The DDPYoga is not just a workout or an eating plan; it's a lifestyle. Follow the DDPYoga Program Guide that is included with the DDPYoga. This will teach you how to set goals, how to track your progress and how to eat healthy — creating a lifestyle that works for you and gives you the results you want!
Ask yourself, when do you really own something?
It may take 30 years to own your house
It may take 30 months to own your car
It takes only 30 days to Own Your Life with DDPYoga!